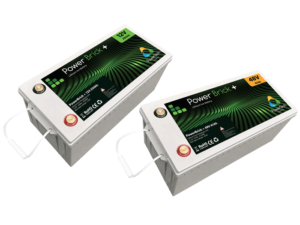 Poissy, April 4, 2018
PowerTech Systems, a manufacturer of innovative energy storage systems specializing in Lithium-ion Iron Phosphate (LiFePO4) technologies, is expanding its PowerBrick+ product line and introduces two new batteries: PowerBrick+ 48V-61Ah and PowerBrick+ 12V-250Ah.
The PowerBrick+ product line includes 12V batteries with a capacity of 7.5Ah, 12Ah, 20Ah, 40Ah, 55Ah, 100Ah, as well as 48V batteries with a capacity of 25Ah. Each of them can be assembled in series or in parallel according to the expressed need.
PowerTech Systems is now expanding its offer with Lithium Iron Phosphate batteries of 48V 61Ah and 12V 250Ah for a power of 3200 Wh each.
A large, totally secure energy capacity
PowerTech Systems Lithium Iron Phosphate (LiFePO4) batteries are fully secured and protected against the risk of explosion and self-ignition. Equipped with an integrated BMS (Battery Management System), the operation of each battery cell is monitored in real time.
Innovative technology with considerable advantages
In addition to optimum safety, PowerBrick+ 48V-61Ah and 12V-250Ah batteries are 2 times lighter, 2 times smaller than equivalent lead-acid batteries. Lifespan is up to 10 times longe than AGMr battery hanks to up to 5000 charging cycles.
Lithium Iron Phosphate (LiFePO4) batteries ideal for a wide range of applications
Marine applications, boats, catamarans, sailboats, electric boats,
Caravanning, motor home, mobile home, chalet, cottage,
On-grid and off-grid energy use, self-consumption, solar photovoltaic energy storage, wind energy storage,
Robotics
Forklift trucks
AGV
Electronic equipment, radio, emergency, transmission,
Converter, inverter, central unit and electronic security system (alarms, CCTV, fire detection, etc.)
Domestic application, automatic gate, pumping,
Electric vehicle,
…
Know more about:
PowerBrick+ 61Ah 48V
PowerBrick+ 250Ah 12V