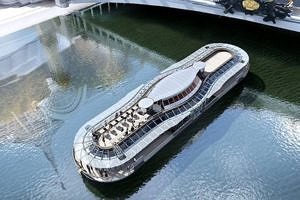 PowerTech Systems is pleased to announce that it is equipping the "Ducasse sur Seine", 100% electric boat with its PowerRack® modular lithium battery system.
This 100% electric boat (propulsion, on-board equipment, kitchens, etc.) is powered entirely by our Lithium Iron Phosphate batteries, representing a stored energy of 720 kWh divided into two totally independent PowerRack banks.
The PowerRack battery system, certified by Bureau Veritas in early 2018, consists of 24 cabinets of 30kWh in 700V DC, connected in parallel. These batteries represent a weight of about 9 tons on board. This cabinet system limits floor space and allows energy to be stacked over the entire height of the hull, making the installation compact and integrated into the boat.
The "Ducasse sur Seine" has been in production since September 10, 2018. It delights the taste buds of its passengers twice a day (lunch and dinner), every day of the week. The trip to the heart of Paris is done without vibrations, silently, and without any pollution.
The official inauguration of the new vessel took place on 25 September 2018 in the presence of Mrs Anne Hidalgo, Mayor of Paris, and other personalities.