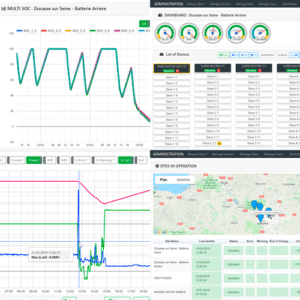 The Monitoring and Telemetry service is now available for our PowerRack® and PowerModule® battery system.
This service allows all battery operating parameters to be monitored in real time.
All information is collected by WIFI, 3G/4G, or TCP-IP ethernet networks.
The service is based on a secure API-REST interface based in a secure cloud.
The main features of the service are as follows:
Remote configuration
Parameter setting of all battery functions and operating thresholds (temperature range, voltage range, current range, power range, warning thresholds, maximum discharge depth, etc.)
More than 70 accessible parameters
Remote firmware update
Remote monitoring
Viewing all battery operating data
Early phase incident detection
Consultation of parameters in the form of graphs and tables
Fleet management and preventive maintenance
Data history
The data is compressed into 5 levels according to their age
The average, minimum and maximum values of each parameter are kept indefinitely
Data consultation by a "Time-Shift" function
Consultation 24-7 via WEB Interface
The data is accessible on any Internet browser (PC or smartphone) with secure access to the platform
The data is accessible from a database cluster and saved on a daily basis
Management of user profiles and access rights for data consultation.
all stored data is encrypted with strong algorithm for privacy
SMS or Email alert management
An SMS or email alert can be configured to be triggered according to the parameters defined by the user.
Alerts can automatically open an assistance or maintenance ticket on the ticketing tools available at the customer's premises
The service requires a subscription that supports the provision of the "Gateway" module for the PowerRack or PowerModule, the communication package, the rental of a dedicated or shared server.
The system is now operational for the PowerRack® range.
EDIT November 2019 : It is also now operational for PowerModule® product range.