Inaugurated in September 2019, the Fludis boat is equipped with PowerTech's PowerRack Lithium battery system, allowing it to sail 100% electrically in the centre of Paris.
This sustainable urban logistics project is a solution to the difficulties encountered by urban freight transport operators, by offering a warehouse boat capable of handling the stages of route preparation, hosting logistics teams, as well as transporting the bicycle-cargoes used for the last kilometer.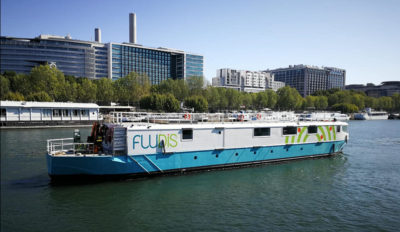 Thanks to the rational use of this "warehouse vessel", and its independence from loading / unloading infrastructures on the quayside, and the dimensions compatible with the canals, the system can be adapted to each agglomeration crossed by a navigable waterway.
The Fludis boat has been designed to have the lowest possible environmental impact: 100% electric propulsion with batteries. The boat also has a generator onboard to extand the range and to remain autonomous where grid is not available. At the port of Gennevilliers, it can be connected to electricity at the quayside. Consumption is estimated at 70 litres of off-road diesel per day for the trip between Gennevilliers and Paris.
The firm IKEA will benefit from this new type of boat. The Swedish company had opened a depot in February in the port of Gennevilliers to get closer to the capital. Cargo bicycles, which can carry up to 250 kg, will deliver to customers in the central districts (from the 1st to the 7th arrondissements). "30% of orders can be processed," Ikea explains.